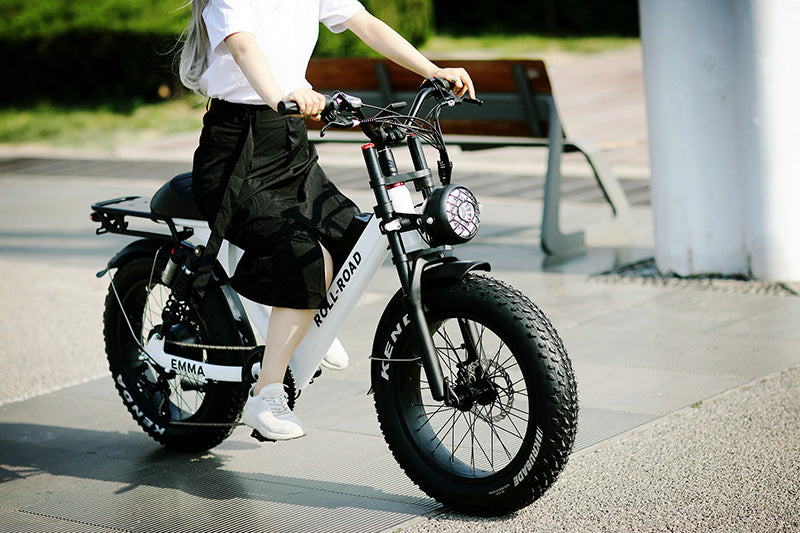 As electric bikes become an increasingly popular transportation and commuting option for urban adults and on-the-go families, it is important to be attentive to safe riding practices. Check out 7 safety tips in this guide to safe riding to ensure you have a safe and fun time on your electric bike.
Always Follow Local Rules and Regulations
Electric bike laws and classifications vary state to state. Before riding, always check your state's specific laws as well as the local rules and regulations for your town, city, or county. As a starting point for learning about the laws that apply to you, check out PeopleForBikes' state-by-state guides to eBike laws.
Wear a Helmet
Whenever you ride, always be sure you and any passengers wear a helmet that meets the US CPSC standard. Wearing a helmet can prevent head injuries.
Emphasize Visibility & Communication
When riding your electric bike, it is important to make sure you can be seen and heard by cars, other cyclists, and pedestrians. Visibility is top of mind in our eBike designs with features like a high-intensity LED headlight, integrated taillight with brake light, and bell. Dressing in brighter colors or reflective clothing can also help increase rider visibility to cars and other vehicles.
Understanding common signals and courtesies can also help you safely share the road or bike path with others. On bike paths, sometimes it is as simple as calling out "On your left" or ringing your bell to alert others you are passing. When sharing the roads, using the proper hand signals ensures you can communicate with nearby drivers & cyclists even if they can't hear you. Check out the National Highway Traffic Safety Administration's hand signals handout to learn basic signals.
Monitor Your Speed
Having the wind at your back on demand makes eBikes incredibly fun to ride, so it is easy to understand the temptation for new riders to immediately start riding in the fastest setting. We recommend starting at a lower speed setting.
When you're ready to ride, take advantage of your bike's throttle to get your bike going, especially when carrying a heavy load of kids or cargo. From there, you can take over pedaling with the pedal-assist.
Roll-Road eBikes have 5 levels of pedal-assist. You can monitor your pedal-assist level and your speed on the LCD screen. With 500/750 watts of extra power, it is important to get a feel for your electric bike and how it feels to ride with the pedal-assist system. You can gradually increase your pedal-assist level as needed.
Brake Early
Similarly to understanding the speed & feel of pedal-assist on an eBike, riders should familiarize themselves with their braking system too. Even at lower levels of pedal assist, riders are still likely traveling at a faster speed than they would be on a conventional bike. This requires an earlier braking time than conventional bike riders may be used to.
Roll-Road electric bikes have an integrated braking system for safe & powerful stopping. The automatic motor cutoff switch ensures that when the brake is applied, the motor will automatically stop engaging. As you ride more frequently and become familiar with the relative power of your braking system, you can learn to situationally assess the safest time to start braking.
Use Caution When Mounting & Dismounting
While Roll-Road eBikes are designed for easy mounting and dismounting, it is still important to be cautious when mounting and dismounting your electric bike. eBikes are heavier than standard bicycles which may require adjusting to for some riders when getting started or slowing down. Always mount and dismount on a stable, flat surface.
Be Aware of the Elements
Always be aware of your surroundings when riding your electric bike. Keep your head up and constantly scan your path for bumps, cracks, potholes, gravel, or loose dirt so you can avoid and prevent accidents.
Be sure to check the weather forecast before heading out on your eBike. It is recommended not to ride your eBike at night or in wet weather. Never ride your eBike in snow or ice.
Ready to Roll? Learn more about Roll-Road eBikes and order yours today.
---